Tomatillo plants are very rewarding to grow. They get big fast, they produce very well and in our desert heat they keep producing long after the other plants have succumbed to the dog days of summer.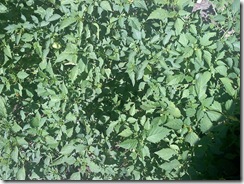 Tomatillos have wonderful yellow blossoms that look very festive in your garden, then they produce a pod. Don't be confused like we were, the pods grow first and then the fruit grows to fill the pods. When the pods feel fairly full keep an eye on the fruit, it should be picked after the pod splits.
Tomatillos flavor and bitterness can vary from plant to plant and even from limb to limb, who knew? So it's best to have a bunch for your recipe so that they can blend those flavors. You can make a fresh green salsa by putting about a pound of tomatillos into your blender, adding garlic, onion, cilantro, a little salt, a jalapeno and even some avocado, pulse until you have the texture you want and store it if needed in the fridge for a few days.
Our favorite thing to do with tomatillos is to make a green sauce and we can it for use all the year long. We use about 2 gallon size ice cream buckets full of tomatillos,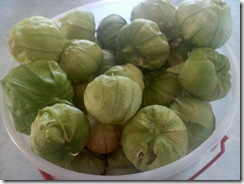 take the husk or pod off, wash and cut into quarters. Cut up 2 good size onions, we use yellow, and 2 jalapenos and about 8 Anaheim peppers all seeded and stemmed and a good size head of garlic, peeled. Put all this in a really big bowl and pour about 1/c cup olive oil, salt and pepper and then mix good. Put all this onto a baking sheet, actually it's going to take 2 good sized ones and roast at 400 degrees for about 40 min.
Then you take that mixture and place it in a blender or food processor and blend until fairly smooth. Pour back into your big bowl and here you have choices to make, how much more salt or pepper does it need? Do you want to add some garlic salt or powder to punch the flavor? I usually add about 1/2 tsp of cumin or so, according to your taste. You could add some cilantro and avocado but I don't usually because I'm going to can it and the processing changes the taste, but I have tried a little lime juice and that works pretty well.
Place the mixture into your canning jars and process according to directions. I use a steam canner and I process for about 40 minutes. This is one of those things that isn't common to can and so depending on the method you use it could take a little experimentation. But it's so worth it! The flavors as it sits on your shelf meld together well and it gets better all the time. However it never lasts long on our shelf so I have no idea how long it will stay good.
I will put the recipe as close as I can get it in the recipe box so you can follow along. I hope you love your green sauce as much as we do. The sauce can be used over enchiladas, in tacos, fish tacos are excellent, as a salsa, over tamales, whatever! It's just yummy